The Lenovo P2 has served me well for nearly a year now. The
battery life
and reasonable speed of the device has meant I've not missed the Galaxy S8 I gave away. As time has gone on it has become apparent that Lenovo will not be updating the phone any further (to Oreo) and don't even bother releasing Android Security Patches. The last security update on the device was from 1st November 2017. I can understand not releasing Oreo (just about) but not releasing security patches for their phones is a big omission. Not only is there
KRACK
to worry about but any future security vulnerabilities that rear their ugly heads. So my current mission is to find a suitable replacement for my Lenovo P2. My want list is as follows:
MUST: Have a big battery life
MUST: Be running Oreo or upgradeable to Oreo
WANT: Front facing fingerprint reader
WANT: Decent camera
WANT: OLED Screen
So that's the list of things which are important in the new phone I choose. The size, shape, brand etc are not important. So let's take a look at those things in more detail:
Battery Life
: I need the phone to last at least a full day of heavy use. After being with the Lenovo P2 and only ever having to charge at the very end of the day, it would be hard to go back to a phone which needs topping up even once a day. Ideally it would be at least 5,000mAh but I think I could get away with 4,000mAh
Oreo
: To be current and have the latest features and security updates I'd like the phone to be running Oreo. This means the phone is likely to have a release date of 2017 or 2018
Front facing fingerprint reader
: I know a lot of people don't like them but I really want my replacement to have a front facing fingerprint reader. Whether it be a physical, tactile or under-screen one, I don't want to lift my phone up to unlock it. My phone is normally on my desk either at work or at home so having to lift it up each time I want to unlock it would be incredibly annoying.
Decent camera
: The Lenovo P2 camera is decent with good lighting but a lack of OIS and poor quality photos in darker environments means I'd be looking for something slightly better than the P2 has to offer. Megapixels don't matter really, it's the quality of the photos it can produce which matters most.
OLED screen
: Having an OLED screen really helps with battery life as I found out in my
battery drain test
. The
Xiaomi Redmi Note 4
 (4,100mAh) did very well with it's LCD screen and so did the
Zenfone 4 Max
 (5,000mAh) so I won't rule out LCD completely. So what are my options?  After doing a quick search on GSMArena, this is what turned up: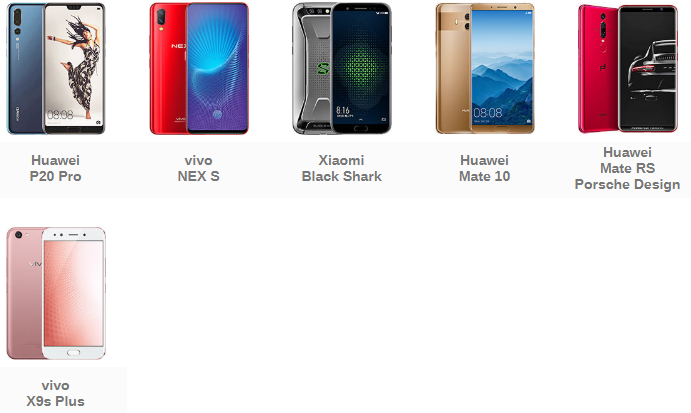 So this is quite an interesting selection. We have so major flagship phones appearing. Interestingly the 2018 
Asus Zenfone Max Pro
did not appear in the results as it has a rear-mounted fingerprint reader but I would certainly add it to the list of phones that are suitable to replace the Lenovo P2. So which phone should I go for next out of this bunch? I'm sure I'll update when I have made my selection…